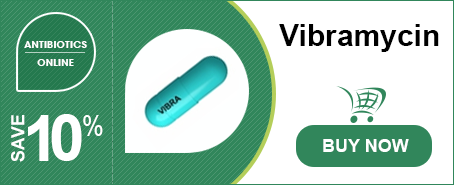 Brand:

Adoxa

,

Alodox

,

Atrido

,

Bio-Tab

,

Doryx

,

Doxy

,

Doxy-Tabs

,

Doxychel

,

Monodox

,

NutriDox

,

Oracea

,

Oraxyl

,

Periostat

,

Vibra-Tabs

. Generic:

DOX-i-SYE-kleen HYE-klate

.
Vibramycin is a type of antibiotic which helps in the healing of infections caused by bacteria, such as respiratory tract infections, Rocky Mountain spotted fever, urinary tract infections, chlamydia, inhalational anthrax and some gonococcal infections. Vibramycin can also be used for treating severe acne and intestinal infections.
Composition of Vibramycin
This drug is derived synthetically from oxytetracycline. It is an antibacterial drug found as Vibramycin Monohydrate (doxycycline monohydrate), Viramycin Calcium , Vibra-Tabs, and Vibramycin Hyclate. Vibramycin is found in many forms like syrup, capsules, oral suspension and tablets. The active ingredient in Vibramycin is Doxycycline.
The inactive ingredients in the tablet formulation are:
Sodium lauryl sulphate
Talc
Yellow 6 Lake
Titanium oxide
Microcrystalline cellulose
Ethylcellulose
Hypromellose
Magnesium stearate
Propylene glycol
The inactive ingredients may vary in the different types of formulations of the drug.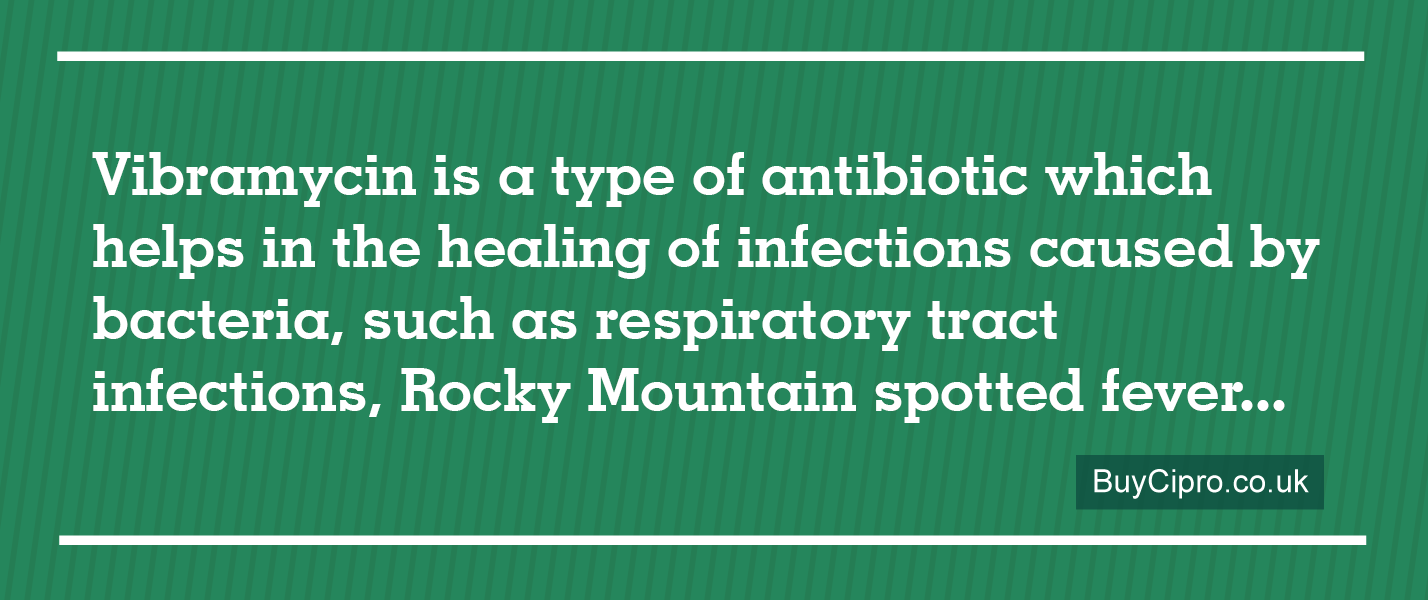 Uses of Vibramycin
Vibramycin is used for treating many types of bacterial infections and even acne. Malaria can also be prevented by using this drug. Vibramycin may also be called as a tetracycline antibiotic. It functions by preventing the growth of the bacteria.
This antibiotic can only help in the healing of bacterial infections. They would not work in case of viral infections (like flu and common cold). If the drug is misused or used unnecessarily, the effectiveness may drop.
Side-effects of Vibramycin
The active ingredient of this drug can result in many side-effects which might require medical attention. Some of the side-effects are mentioned below:
Dark urine
Bloating
Cough
Abdominal tenderness
Clay-coloured stools
Diarrhoea (severe, watery or bloody)
Decreased appetite
Dizziness
Difficulty while swallowing
Feelings of discomfort
Increased heart rate
Headache
Fever
Itching, rashes, welts or hives
Swelling around the eyes or eyelids, tongue, lips
Increased thirst
Joint inflammation
Muscle or joint pain
Vomiting and nausea
Large , hive-like inflammation on the lips, face, tongue, legs, feet, sex organs, throat, or hands
Tingling or numbness of the hands, feet, or face
Pain
Soreness and redness of the eyes
Reddish skin
Sore throat
Stomach cramps
Sores present in the mouth
Swollen lymph glands
Swelling of the lower legs or feet
Chest tightness
Yellow skin or eyes
Unusual loss of weight
Unusual weakness or tiredness
Blurred vision
Bleeding gums
Black and tarry stools
Cracks in the skin
Chills
Heartburn
Increased skin sensitivity to light
Double vision
Decrease in vision
Nosebleeds
Difficult and painful urination
Scaly skin
Severe sunburn
Vomiting blood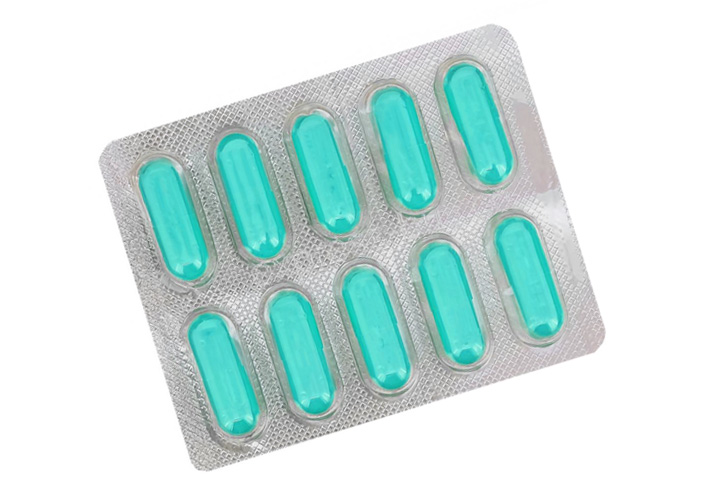 Contraindications of Vibramycin
The patient should not be given Vibramycin if any of the following conditions prevail:
Allergic reaction to tetracyclines
Pregnancy
High pressure inside the skull
Clostridium Difficile Bacteria Related Colitis
Problems regarding the passing of food through the food pipe
Vibramycin and pregnancy
This drug should not be prescribed to anyone pregnant. It can damage the development of teeth at the last half of pregnancy in the infant. The doctor should be in informed if the patient is pregnant or is planning to be.